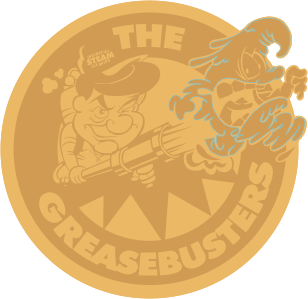 TESTIMONIALS
TESTIMONIALS
I researched many franchise opportunities before becoming a GreaseBuster. What I found so appealing about their program is they do not take royalties from the business I am building! I get all the support and backing of a leading national corporation along with ISO certified training and encouragement from our dealer network of owner/operators while growing my business. Mr. Palmore always makes sure that he sends leads my way and takes care of me. We have a true sense of family here and that is what I appreciate most about being a GreaseBuster.
– Kendall Harrington, GreaseBusters, Long Island, NY
As an entrepreneur, becoming a "GreaseBuster" has been an awesome journey. They provide me with start-up and ongoing training, a basic business model, supplies and 24hr support which is a huge help for anyone new to this industry. The best part of owning your own dealership is that this is your company, financially independent from corporate, which allows you to build the business the way you want to, at your pace as long as you stick within the basic corporate guidelines. Their model continues to work for me. The GreaseBusters brand has an enormous presence in the industry; we are known as the hood cleaning specialists due to our longstanding reputation for quality service.
– Ryan Johnson, GreaseBusters, Philadelphia, PA
The thing that I appreciate most about GreaseBusters is that our protected territories are structured to ensure success and opportunity for growth. My territory is quite frankly large, consisting of several MSAs. I have never had to compete with my own colleague for territory or accounts. Any time I have called upon the corporate office for support they have been there for me. It's comforting to know I'm part of a much larger network of individual business owners but have the support of an industry leader.
– Kevin Plessala, GreaseBusters, New Orleans, LA