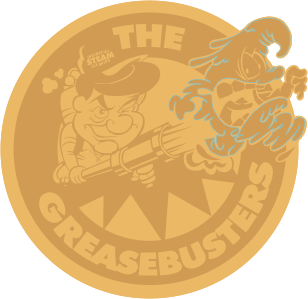 ABOUT
Delivering Innovative Services with Traditional Values
HISTORY
1971
Industrial Steam Cleaning becomes incorporated in Delaware and operates in Washington, DC, Maryland, and Virginia.
1982
The current CEO, Joe Palmore, becomes Owner and President of Industrial Steam Cleaning, Inc.
2002
Trademarks are issued.
2003
East coast launch of ISC Owner/Operator dealership program.
2005
Awarded the patent for GreaseBeast, our industrial strength biodegradable chemical degreaser.
2010
Media launch and profiled in multiple TV shows, such as Spike TV's Bar Rescue and the Food Network.
2012
Established the kitchen exhaust industry's first trade school, USAKES, and formed the Board of Directors for its oversight.
2014
Merged Industrial Fire Protection with O'Briens Fire Protection Services for greater support and national coverage of our fire protection and safety program.
2011
Achieved ISO 9001:2008 certifications in cleaning method; training method; distribution methods; and consulting methods.
OUR VALUES
Our Core Values Impact All Aspects of Our Business and Lives
Excellence
We deliver quality and excellence in all we do. We succeed through satisfied customers. We constantly strive to improve and innovate our services and our bottom-line.
Accountability
We are accountable to our customers and each other for the outcome of every job, every time. We are accountable as owners for our results.
Integrity
As fire safety professionals, we uphold the highest standards of integrity in all of our services. Our integrity shows and matters most when nobody is looking. Keeping commercial kitchen exhaust systems clean and functioning properly matters a great deal to safety. We demonstrate integrity with every service, especially when no one is inspecting our work.
Authenticity
We will remain the authentic service provider to the national restaurant chains. We will continue to promote the importance of industry certifications, inspections and training.
Respect
We treat our customers, owners, and staff with respect and dignity so we earn their respect and loyalty. We understand that what we do is no more important than how we do it.
Responsibility
We own our service outcomes. If there is a problem, we fix it. Our most loyal customers are often a customer who experienced a problem and were impressed with how we owned and remedied it.
Relationships
This is a relationship business and none is more important than our ownership relationships. We work diligently together to develop our team so we all succeed and grow in our business and our lives.
Community/Good Citizenship
We are good citizens in the communities in which we live and work. Ours is an inclusive work environment that embraces change, new ideas, respect for the individual, and an equal opportunity to succeed.
Environment, Health and Safety
We provide a safe work environment. We work in a safe manner that protects and promotes the health and well-being of our technicians, our customers, and the environment.
TESTIMONIALS
I researched many franchise opportunities before becoming a GreaseBuster. What I found so appealing about their program is they do not take royalties from the business I am building! I get all the support and backing of a leading national corporation along with ISO certified training and encouragement from our dealer network of owner/operators while growing my business. Mr. Palmore always makes sure that he sends leads my way and takes care of me. We have a true sense of family here and that is what I appreciate most about being a GreaseBuster.
– Kendall Harrington, GreaseBusters, Long Island, NY
As an entrepreneur, becoming a "GreaseBuster" has been an awesome journey. They provide me with start-up and ongoing training, a basic business model, supplies and 24hr support which is a huge help for anyone new to this industry. The best part of owning your own dealership is that this is your company, financially independent from corporate, which allows you to build the business the way you want to, at your pace as long as you stick within the basic corporate guidelines. Their model continues to work for me. The GreaseBusters brand has an enormous presence in the industry; we are known as the hood cleaning specialists due to our longstanding reputation for quality service.
– Ryan Johnson, GreaseBusters, Philadelphia, PA
The thing that I appreciate most about GreaseBusters is that our protected territories are structured to ensure success and opportunity for growth. My territory is quite frankly large, consisting of several MSAs. I have never had to compete with my own colleague for territory or accounts. Any time I have called upon the corporate office for support they have been there for me. It's comforting to know I'm part of a much larger network of individual business owners but have the support of an industry leader.
– Kevin Plessala, GreaseBusters, New Orleans, LA